ManyChat Pricing Guide
In the case of ManyChat pricing, there are a few things to be aware of. From the startup costs to the cost of the number of subscribers while also giving you a first hand look at the new features that have been added to ManyChat.
ManyChat Pricing
ManyChat is one of the most popular automated chatbots that are widely used by thousands of users and business owners on Facebook today. By being fully able to integrate with numerous platforms and web apps. Examples being, e-mail marketing campaigns, Facebook Messenger, and even web applications like Zapier, it's a powerhouse smart marketing tool that you can use as your go-to completely automated virtual assistant, technical support agent, sales representative, and more.
But how much does ManyChat cost?
Well, the answer to that goes by tiers, so we're going to cover all of those in this guide which is all about ManyChat pricing.
Does ManyChat Have a Free Option?
When you sign up for ManyChat, you can indeed get the free option. They do this, so if you're a newer business that's new to bots, you can get unlimited subscribers to your bot, get quick-start templates, and even unlimited broadcasts, but many of their other features are limited.
For the free version of ManyChat, you only get two "drip sequences", 10 audience segmentation tags, four growth tools, and while you can still get some rich media conversations and access the visual flow builder. If you're going to want more options, and more abilities to market your business by connecting Facebook Ads to it, collect subscriber data and more, you'll need to pay for the Pro version of ManyChat.
How Much Does ManyChat Pro Cost?
With ManyChat Pro, you can actually get your business out there more, and get numerous advanced features that you don't get access to when it comes to having the free version. However, the price isn't really a dedicated price and can fluctuate based on your needs.
The minimum payment for Pro in order to reach up to 500 subscribers for a month is approximately ten dollars, which is still cheap when you pit it against what you get compared to ManyChat Free.
For just $10, you'll get access to all of the free features, but you'll have unlimited drip sequences, audience segmentation, growth tools, the ability to integrate e-mail marketing and other CRM web applications (like Zapier), sponsored message, Facebook Ads connection, extra automation abilities, purchase buttons, e-mail marketing, 50 free SMS messages per month, and even be able to collect pertinent information from your subscribers (such as their phone numbers, e-mail addresses, and more).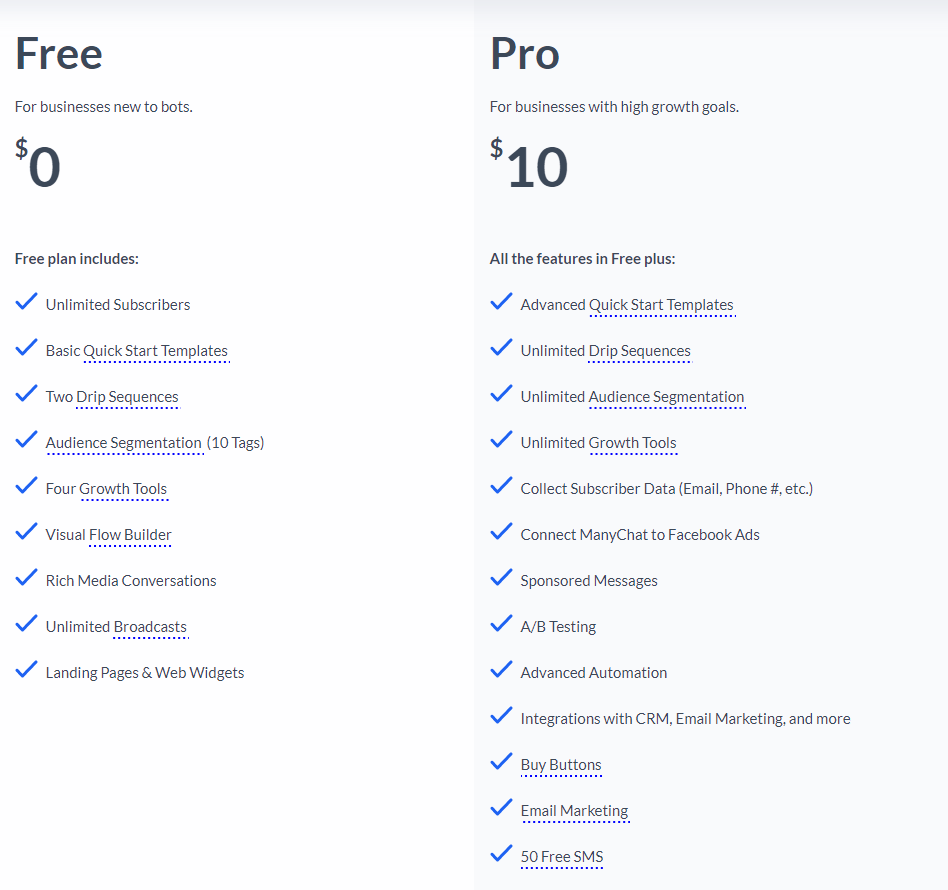 Does it Stop There?
The Pro version of ManyChat is actually a multi-tiered payment plan. While they used to have multiple business plans originally, they've switched to utilizing one multi-tiered pro plan that gives you extra amounts of subscribers you can reach.
Therefore, you get more of a breakdown on the number of subscribers that you can fully reach out to, as well as the number of subscribers you accumulate. This way, as your business grows, your price for paying for Pro grows as well, but as your company grows, this shouldn't matter much at all, because you're going to be earning far more than that as a smart marketer.
The price breakdown is as follows:
Price per Subscriber Count
$15/month = 1,000 Subscribers
$25/month = 2,500 Subscribers
$45/month = 5,000 Subscribers
$65/month = 10,000 Subscribers
$95/month = 15,000 Subscribers
$125/month = 20,000 Subscribers
$145/month = 25,000 Subscribers
More subscribers can be added by contacting ManyChat Support
Looking at the price table listed above, at first, it's approximately $5 for every 500 subscribers until you get to the 5,000 subscriber mark. This isn't bad at all, and even then they start decreasing the cost rather than pay you a full 10 dollars per every 500 subscribers that you accumulate.
Not only that, but ManyChat is on an automated payment option, so if you are at tier level two for only part of the month, but the majority of it you were back at Pro tier 1 ($10), then they'll adjust the month's billing appropriately so you pay for the majority. This way you don't pay for any extra subscribers that you don't use your ManyChat for.
What About SMS and Email Prices?

This question is a very frequent question, as many businesses are opting for being able to e-mail their clients and customers, as well as send things like text alerts, discount coupons, and more. These can all be done through ManyChat, but the prices are a little different. If you have a monthly newsletter, ManyChat is a great way to utilize this, and you are allowed your monthly subscriber limit every month to send e-mails.
For example, if you had a thousand subscribers, you can send 1000 emails per month (one to every subscriber). They charge $.003 per every e-mail after that, so if you needed to send a bi-weekly newsletter, you're only going to pay an extra three dollars for an extra thousand e-mails to those thousand clients. This is a very small fee compared to some other alternatives out there of automated e-mail messaging.
Once you get SMS Marketing activated, you can send up to 50 text messages for free during the first month. Since some customers end up paying for SMS messages, every additional text message that you send to your subscribers are billed at three cents per every SMS message. That's a total of $30 for every 1000 subscribers.
How Do I Pay for ManyChat?
ManyChat allows you to pay them through the standard Visa, MasterCard, American Express, and Discover debit or credit cards. They also accept other major credit cards that are popular on the market today.
While they do allow PayPal integration at the Pro tier, they do not currently accept PayPal, however, if you are a business owner and have a PayPal Business account, and a PayPal debit card (which is a MasterCard), you can use this card to pay from your PayPal balance.
Do I Get Anything Special for Being a ManyChat Partner?

One of the best things you can do once you're a ManyChat Pro creates an excellent bot and become a partner once you start generating revenue with your ManyChat bot. Once you're a partner, you can get a 20% revenue share for Pro referrals for life. This means that every pro client that you sign up will earn you twenty percent of their monthly subscription as long as their pro bot is active. It might not seem like much, but it adds up.
And the more you earn, the more you can save on your own ManyChat bots by using it to pay towards your ManyChat bill.
As a ManyChat partner, you can also get priority support so your troubleshooting contacts will have priority over others and resolved as quickly as possible. You'll also get an agency listing on ManyChat's public agency directory on their website. How cool is that?
This way you get even more exposure for yourself.
If you want to go an extra step, you can also go the extra mile and help clients as a Messenger Marketing Expert partner. This tier of being a partner requires you to pass the advanced ManyChat test, and have 3 or more Pro bots active with more than 100 monthly active subscribers.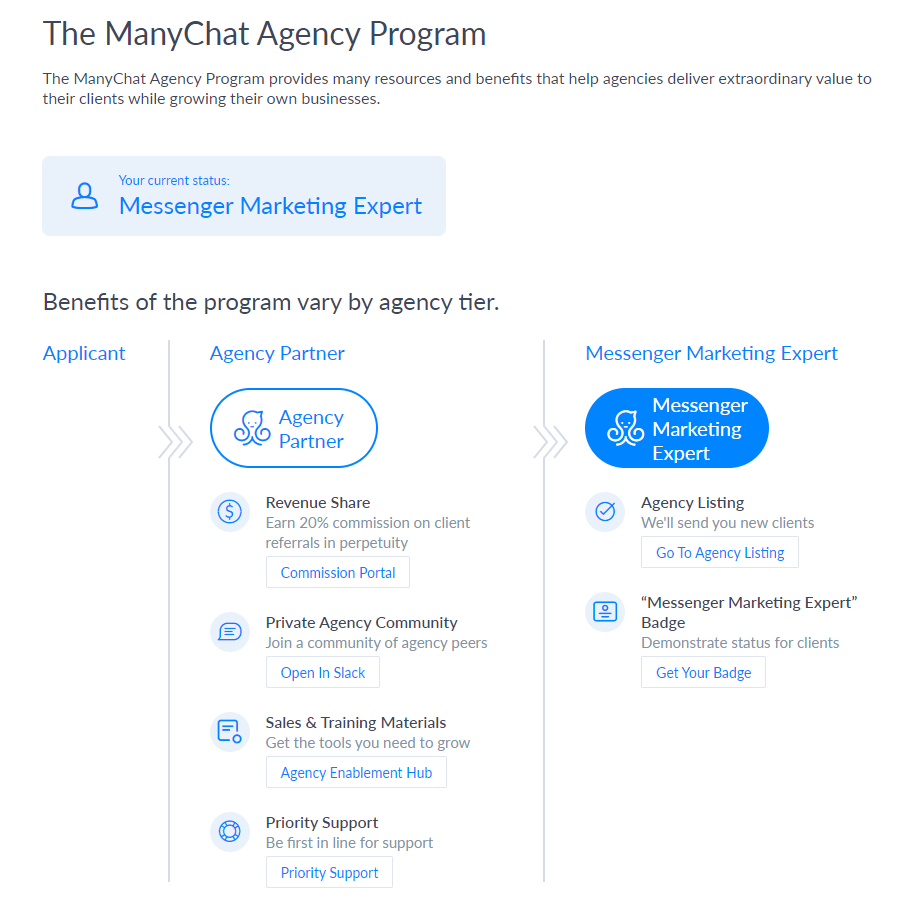 Final Thoughts
All of the details of ManyChat pricing and a little bit of extra information to help you along the way to becoming a fully automated powerhouse of a smart bot marketer. If you look into the future, chatbots are going to be the primary way that businesses reach out to their customers by the year 2022, and there's no reason you shouldn't get started now.
Using ManyChat, you can make your bot literally pay for itself and still earn you a maximum return on investment.