What Does Zapier Mean To Your Business?
In my opinion, Zapier is the glue that ties business task together to work more effectively and help you save time because it is automated and once it is built then all you have to do its let it run. Using automation tools like Zapier and MagicZap make the difference.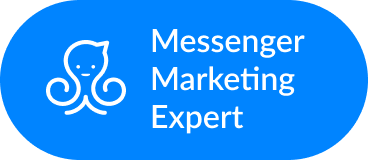 Let's talk about what Zapier does
When it comes to business, I can't think of any easier way to take care of those to-do list tasks with automation. Using automation to send emails, fill spreadsheets, handle product fulfillment, and send out reminders for meetings is just a few things that Zapier is good at handling but it does take a little setup. 
What do I mean by that?
Well, its simple really to use if you have a simple how-to tutorial to help you out.
I learned from the best developers I know and so I thought what a better way to help share that knowledge than to make a simple and easy way to learn the basics and most used business automation so I did.
So what can it do you my business?
Being that Zapier integrates with just about any system that is online makes it the glue that holds everything together in business. I personally use it to track meetings, leads, product fulfillment, and much more. When it comes to business items that a most used, Google docs and Google sheets is on the top.
You can setup a quick and easy Google sheet and then point the data you want to track in it with labels then once a trigger is actuated then the data is filled into the Google sheet.
So what is a trigger in Zapier?
A trigger is the starting point of a Zap, this is needed to tell the zap when to be used and is also where the main source of data is introduced to the integration. The order of operation is, trigger then an action but is not limited to that. You can have multiple actions in one zap, in other words, multiple tasks being done in one convenient business automation or integration.
Triggers are very simple to setup and this is the beginning of two or more systems working together.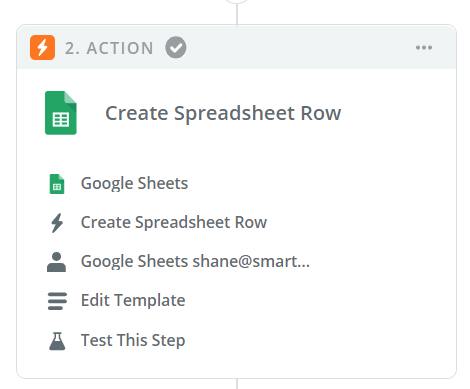 What type of buiness can Zapier help with?
Whether you are a brick and mortar business or an online business then Zapier can be a life saver, saving time and money with handling the little tasks and automating things to work when you aren't. Taking the guess work out of the question "Is work getting done?" or "is business needs being met?" 
Ever since I deployed Zapier into my business, life has been great and this is why I teach how to use it. So that everyone can benefit from the automating thier bsuiness and grwoing to their true capacity. 
How can I say such a bold complain?  the data never lies so in my eyes it is a clear win.
Another great way to help is with automating sales support or adding the last defining message that closes the deal for you, after all in any sale it is a know, like, and trust factor that closes for you.
So why can't you have automation help you?
What are Zapier Paths?
A path in Zapier something you can use to have multiple ways to give different outcomes from a single zap. Meaning, there is no reason to have three indenpendant zaps that are triggered from the same source when you can have this all done in one single zap.
This very feature can be as complex or as simple as you would like it to be. In fact, I have used this is a sales system to follow the consumer from website page to website page and send a Facebook messenger message to the consumer as a support system to save a sale.
This one way of automating your sales system for support can help you increase convertions quite a bit and the reason I did not throw number around when I said that is because it depends on your business model, products, and services.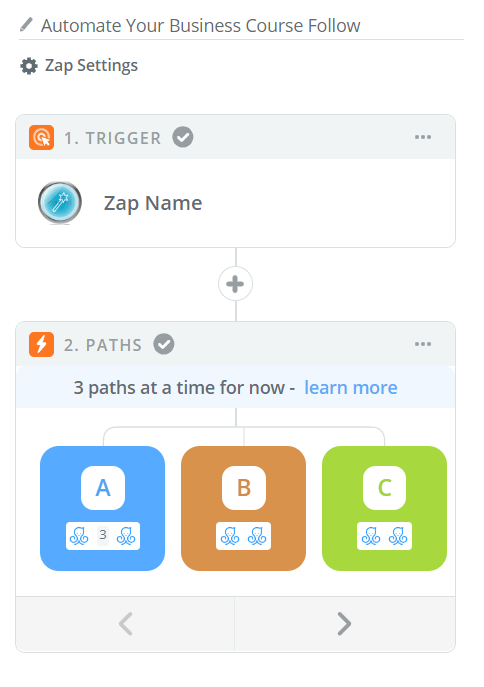 About
How To Use Zapier in 2019
With this course, I break to the mold of what Zapier is and how to use it from start to finish, you will be an expert in building business automations to help save you time and money.
Showing what it takes to use the platform and be successful just like so many are doing right now.
Teaching how to use the most common Zapier tricks while also popping out with some custom Ninja tricks to give you the edge over your competition.
From the very beginning to becoming a master in the art of the Zapier platform, giving you the needed tools to make any business a success.
Mixing Google sheets, Chatbots, MagicZap and many other well known tools that just help you be the best you can be in business austomation.
These very tools have helped me make thousands of dollars and also charge what I want to charge to my clients because they need their business automated better.
This is for everyone to grow whether you are just starting or you have been in the game for years and need an edge over the competition.
We all know that chatbots are the way of the future, but what is a chatbot without other automation tools like Zapier?
Also, you can use this for much more than just chatbots, you can use Zapier for anything.
So many of the top digital marketers are getting rich by keeping their customers happy with business automation like these so the time is now to learn through our offers.
Having multiple angles of engaging with your potential customers is exactly what the industry winners are doing so I ask you….
? Are you ready to become a winner as well?
? Learn everything that took me years to learn in just two hours.
You can make small decision to make a massive change in you business right now, our course is compiled of the most detailed information which give you more than any other course on the internet in a no-bs way.
Take it from someone that has over 16 years in automation….you need this!
Section 1: Welcome To Zapier, Your Marketing Friend
Section 2: Stay Organized.....Stay Productive With Zapier
Section 3: Understanding Zapier Timing
Section 4: Zapping Your Way To Success - Making Your First Zap
Section 5: Zapping Information From Google Sheet to Google Sheet
Section 6: Filtering The BS Out of Business with Zapier
Section 7: When to Market - Zapier Date and Time Matters!
Section 8: ManyChat Flows To Zapping Emails - The MZ Technique
Section 9: ManyChat Ninja Trick Broadcast To Zap Data To Google Sheets
Section 10: Using Zapier To Notice You A Calendly Event By Messenger
Section 11: Check Zap Errors With Zapier Then Message Out Issues
Section 12: Register A ManyChat User To A Go-To Webinar With Zapier
Section 13: Adding Go-To Webinar Registrations To ActiveCampaign
Section 14: Added Contact To ActiveCampaign Opt-Ins With Zaps
Section 15: Filtering PayPal Payments
Success
Zapier is the Glue That Holds Businesses Together