Best ManyChat Course For 2019
ManyChat has widely become one of the most used tools in digital marketing.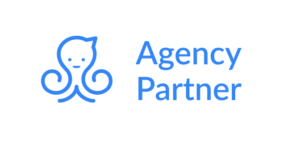 About
Voted Best ManyChat Course in 2019
With this course, I break to the mold of ManyChat to the fullest showing what it takes to use the platform and be successful just like so many are doing right now.
Teaching how to use Facebook messenger from the very beginning to becoming a master in the art of the ManyChat platform, giving you the needed tools to make any business a success.
Mixing Facebook Messenger in with your marketing efforts along with a well-rounded system is the goal of this course and yes…we achieve that with support with our facebook group.
This is for everyone to grow whether you are just starting or you have been in the game for years and need an edge over the competition.
We all know that chatbots are the way of the future.
More so they are being used with great success right now, so many of the top digital marketers are getting rich by keeping their customers happy with messenger through offers, helpful hints, or just a quick reminder.
Having multiple angles of engaging with your potential customers is exactly what the industry winners are doing so I ask you….
🤔 Are you ready to become a winner as well?
👉 Right now we have a special offer for the first 4 chapters.
You can get a small section of the massive course right now, our mini-course is compiled of the first four chapters which give you more than any other ManyChat course on the internet. 
Welcome to Smart Bot Marketing 2019
What is Facebook Messenger and Why Is It Good for Business
Chapter 1: The Foundation
Chapter 2: Mastering The Basics Of ManyChat
Chapter 3: Mastering ManyChat Advanced
Chapter 4: Customizing Your Bot for Serious Success
Chapter 5: Messenger Marketing Agency
Chapter 6: Facebook Ads Done The Right Way in 2019
Chapter 7: Leveraging ClickFunnels Like The Top One Percent
Chapter 8: Gaining Leads With Your Website's Chatbot Integration
Chapter 9: Putting It All Together For The Win
Bonus 2 - Google Ads Set Up
Bonus 3 - Make A Google Ad
Success
Boost Your Your Business With Facebook Messenger Chatbots
You landed here because you have an interest in making money with Many Chat or Facebook messenger which could be for one or two different reasons.
Either you are starting from scratch or you are already in digital marketing and looking for more tools or an easier way to save money.
Let me ease your mind and set your thoughts to rest, you are in the right place.
From working 60 hours a week as an engineer to taking online course after online course for digital marketing and Facebook ads, I know how frustrating it can be trying to find a better way.
This is what made me set back and say "Wait, I Can Help!"
Why do I feel this way?
Because I am absolutely tired of people talking a big game then not producing so this is where I enter to provide a simple but effective way to teach everything you need to know for Facebook messenger using ManyChat for digital marketing.
Achieve
Digital Marketing Master Course With Facebook Messenger
This Facebook messenger marketing master course is currently in the beta testing phase to make sure that everything is 100% clear and user-friendly so everyone can be more focussed on success rather than course structure or issues.
The master course is only open to those that qualify, meaning application only. 
There are perks to being a beta tester and they are well worth it.
The cost of entry to the course in the beta testing phase is reduced by 50% for a show of support for those willing to be in the beta test.
Like anything great thing, these people will become the first people to show success because there is no question of if…..more like when.
I already have successful members in the course so now it is entry by request only until launch.
After the beta testing phase, the price goes to normal and the extras are reduced….but no worries, the course will be the one stop shop that gives so much that many people are shocked to see what is inside, it is so packed full of value.
Course Discounted
Now…Application Accepted Only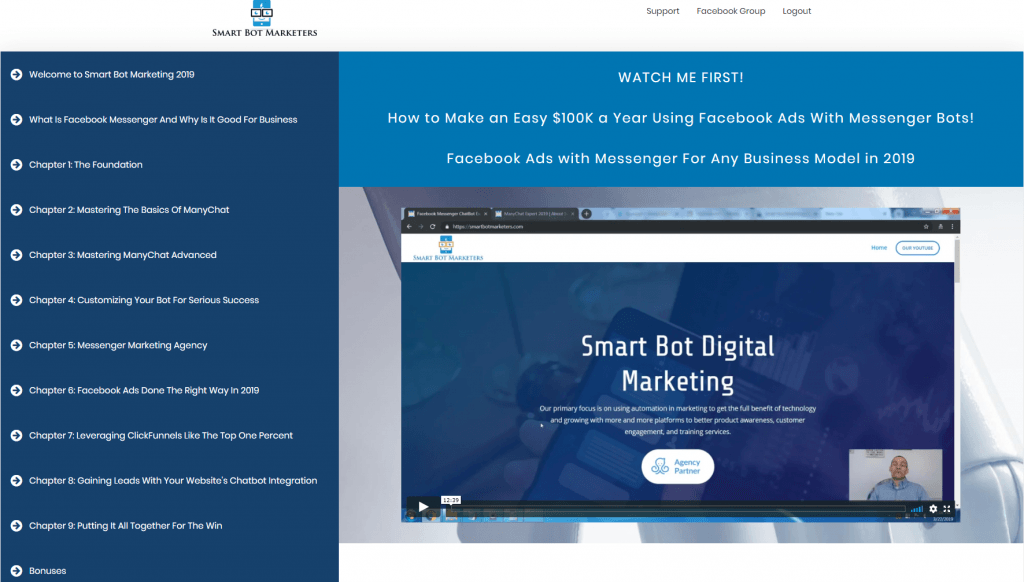 Smart Bot Marketing Master Course is the course name and seems like a long drawn out name so let me explain further.
This ManyChat course will provide the ability for someone with no experience take this course to learn ManyChat, Facebook Pages, Facebook Advertising, Clickfunnels, and SEO along with Google ads.
Therefore, giving a deep understanding of being a real marketer so that when you decide to have a ManyChat agency or Social Media Marketing Agency then you will have everything you need to become successful.
After all, the more tools that you have in your toolbox then the easier to succeed.
This is not legal advice however, to have a real business you need an LLC or a DBA to make sure your business is 100% legal.
Why would I talk about an LLC or DBA?
Because you will need this to protect yourself after you start making money with your successful marketing business which I am sure you will as long as you put forth the effort.
What Is In This ManyChat Course?
How to Make an Easy $100K a Year Using Facebook Ads With Messenger Bots!
Welcome to Smart Bot Marketing 2019
What is Facebook Messenger and Why Is It Good for Business
Chapter 1: The Foundation
Chapter 2: Mastering the Basic of ManyChat 
Chapter 3: Advanced ManyChat 2019
Chapter 4: Customizing Your Bot for Serious Success
Chapter 5: Messenger Marketing Agency
Chapter 6: Facebook Ads Done The Right Way in 2019
Chapter 7: Leveraging ClickFunnels Like the Top One Percent
Chapter 8: Website Integration
Chapter 9: Putting It All Together for the Win
Bonus Content
Bonus 1: On-Page SEO For Websites (The Smart Critical 5 Elements)
Bonus 2: Google ads account set up
Bonus 3: Making a Google Ad & controlling spending
Who Is The Messenger Course For?
Beginners: This course is for people just starting out in digital marketing of ManyChat
Moderate: People who have been doing digital marketing for 3 years or less and need extra tools for success
Digital Marketers: Experienced marketers that need an edge to be able to shoot past the competition
Social Media Agencies
Business owners
Anyone looking to better themselves
Anyone with the fear of missing out from the list of people above that will take this course (They will succeed so get in while you can)
How Do I Know If This Course Is Right For My Situation?
Just a few items to think about but are not limited to.
If you are serious about applying the correct effort then success will come
If you have a business
If you are looking at starting a ManyChat agency
If you have a social media marketing agency already
If you need extra tools to help your business grow
If you want to know what the one percent do to make their profits
Does This Messenger Marketing Course Have Support?
We have a private Facebook group.
Yes, we have a private Facebook group for member only to help each other as they grow and also offers bonuses to those most active members to help with assistance.
What Makes This Course Standout?
This course is designed to fit Chatbots in with all of your other marketing that you have such as Facebook ads, Websites, Clickfunnels, and more along with teaching each of these for those who do not know yet to have a well-rounded circle of marketing for any business.