Using A Giveaway Bot To Go Viral
Give Away Bots are how most E-commerce businesses win in social media because of a few reasons & one of them being that the conversation with the viral share.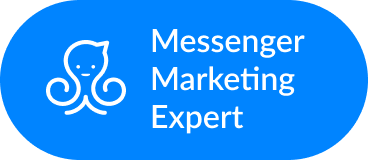 Using A Giveaway Bot To Go Viral
Give Away Bots are how most E-commerce businesses win in social media because of a few reasons & one of them being that the conversation with the viral share.
Go Viral With A GiveAway. ?
Let's Talk About Why Giveaway Bots Win
It's no surprise that people love giveaways, and that's because everybody likes free stuff. So how do you do it? Well, believe it or not, the best answer in the digital world is bots.
Want some proof?
Gamers have already figured this out – using applications like Discord and even their Twitch bots for example to make awesome giveaways.
Giveaway bots can help give your products some excellent PR and more.
I'll explain this in this guide as well, and once you complete this guide, you'll be able to program your bot in order to create an awesome giveaway that can give you some social media growth, as well as help to build your online persona and brand.
Not a corporation?
Hey, don't worry about it! This is a great way for entrepreneurs and bigwigs alike to get some great turnover.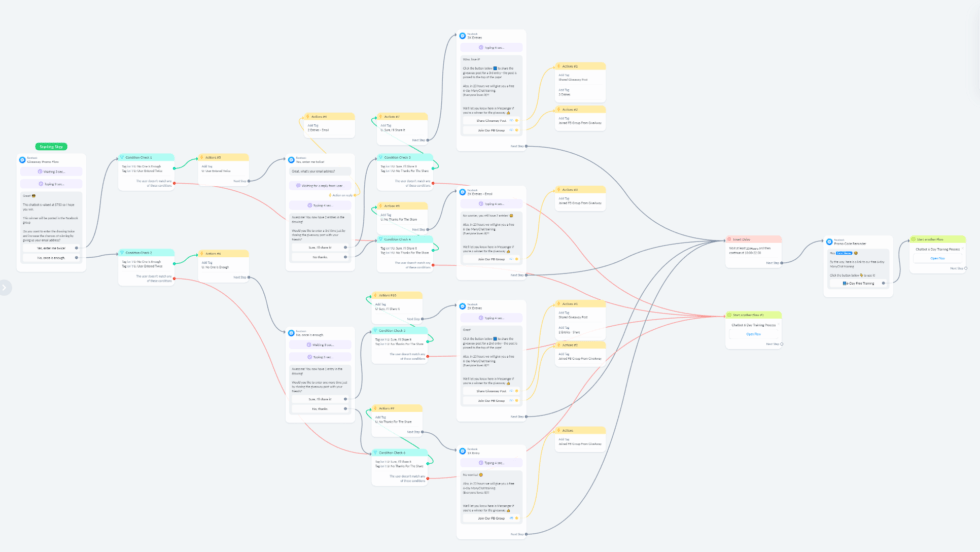 Chatbots Are the Key
No matter what platform you're working with (a messenger, software app, or even a web bot), chatbots are the way to create amazing giveaways more than anything else that you can think of.
There's actually good reason for this. Chatbots are designed to work on a calculation of algorithms, and most importantly, they're extremely smart. Ever wonder how they are able to pick a person when a thousand people are spamming the answer?
The answer to that is by using chatbots.
So, what does a chatbot do when it's being used in a giveaway? Well, it is programmed to calculate and record the results of entries. There are multiple ways that you can set up drawings – one of the primary ways is what I call first come, first serve.
The other method of having a drawing is a completely random drawing using special algorithms in which your bot will randomly select the winner out of a list of entries.
This can be done using names, or by using other select identifiers. When you're wanting to set up a chatbot like ManyChat for Facebook Giveaways, it's probably a better bet to give yourself and your subscribers a chance in a completely random giveaway.
Why Facebook Drawings?
Most digital marketers know how to use things such as Facebook Ads, Google Ads, and other platforms.
However, one of the things they don't know how to do is set up their bot.
Fortunately, there are some great templates that can be used. I can provide a Promo Giveaway bot template you completely free. It is valued at almost $150, but you can get it completely free!
Of course, if you're not looking for a template like this that's already preset and created for you, you can use your ManyChat and set up your bot manually yourself as well, then just tweak the settings to your needs.
There is an average of 2.4 billion people on Facebook at any given time.
And almost all of them use Messenger! So think about it this way – why not offer your giveaways to your audience on Facebook when you know that they'll see it much more than just hosting it on your website (don't get me wrong; having ManyChat incorporated into your website can also increase this return for you too)?
How Viral Giveaways Can Help Your E-Commerce Grow
Ah, the word viral. Everyone these days loves it don't they? Well what if I told you that I can help you create the perfect viral giveaway so you can increase your e-commerce business or digital marketing campaign? Believe it or not, it's extremely simple – and even though it takes a little backend work, once the hard part is complete, you can sit back and watch the increased traffic, conversion, and return on investment that you deserve!
? No-Cost E-Commerce Chatbot Template
 
So What Makes a Giveaway Viral?
Very good question grasshopper. Using ninja tactics, you'll be able to see that the main part of a viral giveaway is "share-ability"! Many promos and giveaways by companies have great results, but if you look carefully, being able to share the promotion to your friends can get them a LOT more in terms of traffic and even conversion rates. In many giveaways, you'll be asked to give some information, such as your e-mail address, and you can even get extra kudos (additional entries) by following a company's Facebook page, Instagram, Twitter, or other outlet.
Where it gets tricky is that when a company doesn't promote sharing the giveaway, you're going to get people who will just enter it when they stumble upon your site.
The Real Trick Is: To Become Viral, You Should ENCOURAGE Sharing!
That's right, I said it! In order to truly succeed, that punch line is superbly true. By entering a giveaway, you can promote additional entries for every shared social media platform you use, or even other platforms. When it comes to u sing a chatbot, you can essentially include your Facebook Messenger Bot button link (read more about using that button and link in our  Facebook Messenger Settings Guide – under the Messenger Link section) and allow others to share that link to enter drawings, thus getting you more entries, and getting them more entries.
Think that isn't going to work?
Think again! There are many reasons why people love giveaways and contests.
Here's a few of them:
·        Bring it On! The Best One Wins!
People are competitive. Giving them the chance to compete gives them some drive and incentive, especially if they'll be rewarded for it.
·        Did You Say Free?
People love free stuff as we said before. Don't you?
·        Exposure is Always Great!
You get more exposure this way, and exposure is always just what it sounds like – easy traffic to your website or online store.
·        Increasing Conversion
People like to linger, especially after they see that there's a promotion going on. While there may be less of a successful conversion rate simply from someone visiting your site, you can increase the chances because you've already offered something free to them.
·        Welcome Back!
Similar to what I mentioned about conversion above, having a promotion can give someone the incentive to go ahead and finish the purchase process if they have had an abandoned cart.
Will I Fail? The Proof is in the Statistics
Some people have definitely failed when they make a viral giveaway bot, but the majority of people don't if they set their table right. I'll give you a foolproof way to ensure that you get the best tips possible, and use them to your advantage, as well as the bot scripts that you can customize on your own to help enhance your growth. Most people who don't succeed when it comes to creating a successful ManyChat viral giveaway, is that they simply didn't do it right.
Either by making it not engaging enough, or they didn't offer somebody the right thing. Look. If you have revenue coming into your e-commerce website, can't you sacrifice a high demand item that costs $50? Those who often fail are the ones who don't give enough in some people's minds – offering items that are only worth a couple dollars. You have to give the people the incentive to sign up!
Once you do this, the numbers will sort of just flow right in as long as you have the right PR to initialize it. Want some proof?
Here you go!
·        Beardbrand
Beardbrand.com ended up driving a giveaway contest after they started. All they had to do is give away one of their bottles of Beardbrand Beard Oil every day for a week. By doing so, they ended up having an increase of 100% in their e-mail marketing subscribers, and had a 400% growth on their Facebook, Instagram, and YouTube pages! That's a 500% growth in ROI (return on investment), which is insane!
·        Cedar Spin Mops
O Cedar is the creator of the spin mop. Who doesn't love to mop? Well, while most of the world wants to look into other alternatives, their campaign drove over 24,000 views and ended up increasing their conversion rate up to over 45%!
They ended up getting 11,200 e-mail subscribers for about 10 $30 mops. Compared to the number of mops and products that they ended up actually selling, they ended up getting an intense return which very much more than gave them the net worth when compared to the $300 dollars in product that they ended up giving away (do mind that it does NOT cost $30 per mop to create them).
·        The Hunting Republic's Trophy Ridge 100k Giveaway
Trophy Ridge sponsored this giveaway which ended up getting an awesome Facebook giveaway to generate 100,000 subscribers for their YouTube channel. Two random grand prize winners received about $375 worth of hunting gear and generated well over the 100k subscribers mark! Not a bad turnaround. Now multiply that times their videos, all of which have over 100k views. Think about the fact that an average YouTube channel makes about $18 bucks per 1,000 ad views (and some videos can have multiple ads) – T
hat's a steady increase in monetization value right there!
How to Get the Most from Your Viral Giveaway?
In order to get the highest amount of returns on investment, traffic, and even conversion of your viral giveaway, you need to ensure a bit of success. I'll teach you how to get the most success in your giveaway, and if you are new to chatbots, I can even provide that training as well with my ManyChat Master Course! Here are some things you'll want to keep in mind in order to create the best viral giveaway possible:
1.     Know What You're Wanting
Are you wanting to simply increase conversion?
Or are you wanting page views, subscribers, etc.? You can increase all of the above or just one thing at a time with a successful giveaway. Therefore, by knowing what it is exactly that you're going to create your giveaway for, this means you'll know what you're going to do with the No-Cost Facebook Messenger E-Commerce Chatbot Template for Viral Share that I can give you!
2.     Pick Your Prize Pool
You need to have your prizes figured out. Believe it or not, you can simply giveaway your own products, or even someone else's! If you can find a sponsor, this can generate a ton of leads for you depending on your needs (mainly for subscribers and traffic). For an e-commerce store, you're more than likely going to want to increase conversion. In order to do so, pick a prize that has a significant amount of value and stick with it. Are you an Amazon Affiliate or FBA Associate?
You can even triple your conversion by offering gift vouchers on Amazon while talking about products that you yourself have affiliate links marketed to! That's free additional money if someone chooses to buy one of your Amazon products!
Do keep in mind that you don't want to use generic prizes because this can drive people away if they're not in y our niche. You want to stick to your target market.
If you have to, don't hesitate to "buy" something that's specifically designed for your giveaway niche. Here's a prime example:
If you're a book store online, go out of your way for your target market a little bit and buy a certain book!
Here's a good example – Dave Ramsey, the writer of The Total Money Makeover (who doesn't love free financial advice?). The cost? $13 bucks a piece (this can be bought for less than $3 on eBay even!). You don't have to spend an arm and a leg. Just getting something that will help your customers succeed is a great promise.
So buy ten books, and market that ManyChat bot giveaway, all the while making it viral so people will share it, and get you more subscribers, not to mention get more people to look at other books and buy them from your site. All from a book, you didn't have to spend a fortune on to give away. Want to know something else? This book has sold 5 million copies in the past 15 years since its creation.
Another thing you can do is if you're in a specific niche for your website, then you can use your affiliate partners (aside from Amazon). If you sell CBD products for example, get ahold of your affiliates which will help increase backlinks to yours and your affiliates website, get hundreds (if not thousands) of social media followers, and get more people to subscribe to your e-mailing list!
3.     Set the Giveaway Up
Once you have all of the above figured out, that's when you can really make the magic happen.
Follow the guide on how to set up your ManyChat bot for your giveaway below, or get our free template to help get everything flowing! One of the greatest things to remember, is that everyone loves the chance for a bonus – so don't forget to add bonus entry possibilities.
4.     Use Proper PR for Promotion
First off, you can use your already subscribed members and those who are on your e-mail marketing list even. Remember – share that Facebook Messenger Link so you can make them link to your chatbot!
Use eye-catching imagery and some words that will engage them to click and share, and you'll go a long way.
You don't have to make it too salesy either, just subtly requesting them to join you on your giveaway journey can help you go far! Always keep customer service in mind and professionalism when you're in this step so you don't lose traffic or subscribers.
5.     Don't Forget to Keep People On Board!
Even though not everyone is going to win the grand prize, you want to give them some sort of promotion to keep them on your list.
People don't like losing, so if you can make them feel like they won something just for entering the contest, you can generate even more sales and increase your conversion!
Why Use ManyChat for Drawings?
ManyChat is one of the biggest marketing tools out there. You get a ton of growth tools, and you'll want to use them all to your advantage.
ManyChat is one of the best chatbots out there, and even some really big names and corporations out there use it to increase their social following on Facebook Messenger, let alone increase their online persona!
Some people opt for the free version of ManyChat, but eventually as. Not only that, but the plans actually truly fluctuate based on various things on your account – such as the number of messages you can send to subscribers, and even branding support.
The great thing bout this though, is you're never going to pay for more than you need.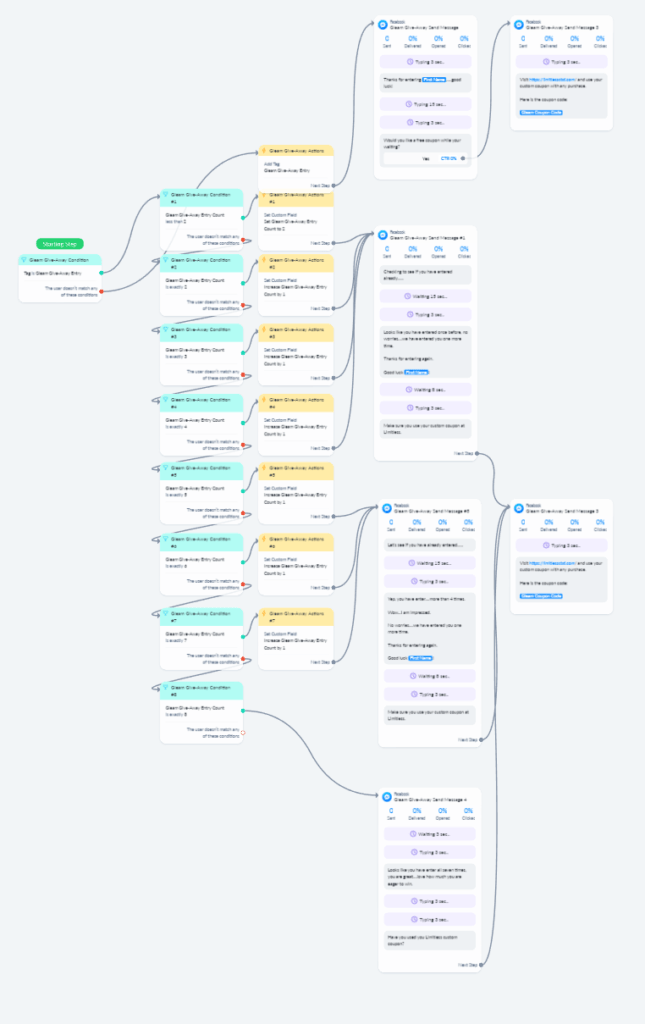 How to Use ManyChat and Create that Dream Giveaway Promo Bot!
One of the cool things about ManyChat is that it can utilize integration with many other platforms, and create a truly random chatbot sequence to pick a winner.
Do you need anything special?
Well, you will want to purchase a Pro ManyChat Account. But for 10 bucks, having endless potential is completely worth it! That's still cheaper than the average Netflix subscription!
Have you ever used Google Sheets?
You can use this to help create your spreadsheet which will be needed to help maintain your records. Once you create your Flow in ManyChat, and then you'll end up syncing that to your Google Sheet by connecting the ManyChat bot to it.
And of course, you'll need to set up messages for subscribers, as well as foolproof messages (you don't want people trying to get more than one prize at once, or cheat the system that you're creating – this is to ensure that everyone has a genuine opportunity equally).
Here's the breakdown.
Set Up the Offers Right
This is where you'll do all of the set up that we mentioned earlier on your ManyChat bot.
You want to get your template created or choose the one I can provide you with my giveaway, and get an offer that you wouldn't mind giving away more than once.
Once you do figure this step out, you get to be creative.
Get a Little Flashy!
Using anything simple, you can create the custom graphics for your promotion. Make engaging shapes that catch your subscribers' or visitors attention, but don't make it too gaudy.
You don't have to be a graphic designer, but having a bit of knowledge and creativity can definitely help! ManyChat will automatically format it to fit in the messenger window. Use text effects to make things bold or to entice the reader.
Try to avoid all-caps, because this appears spammy and too in-your-face. You can also use animated gifs for your chatbot (as we teach you in our ManyChat guides) because this can also give your bot some personality.
Create Your Google Sheet
You need to be able to track Data outside of ManyChat, even though you can get a lot of information in it as well. ManyChat can help to integrate a Google Sheet and export things like entry names, e-mails, and numbers of entry.
The best overall basic information you need to understand is that you want the name of your subscriber who entered, the e-mail, the offer they received, the date it was received, and whether it was redeemed or not.
If you're giving away services or discounts for services and products, this can help you to keep track of who won and entered the giveaway or not.
The ManyChat Sequence
This is the most important part. By using my free template, you can avoid a lot of this hassle, but if you do choose to do it all by yourself, you'll need to create many new user fields.
You'll want this to align with your Google Sheet, so you'll want ManyChat to store the name or offer that was received.
Then you'll want to give a new user field for the date that they received the offer, whether or not they successfully redeemed it, the date they did redeem it (if they did), whether or not they've already redeemed it (if so, you can incorporate other promotions for them instead), a field for any suggestions or questions every subscriber might have, and of course, their name and e-mail.
Go with the Flows
You'll want to make a few more flows, so you want to make one such as the chance for their discount chance in a folder of its own – organization is very important to keep from getting confused. Then of course, you can choose to enter that folder and create a new flow for your special giveaway.
In your new flow, you'll want to use a greeting.
This can be an image, or a simple hello, but you should NEVER throw out the offer right away, as this can make your bot look too salesy and get your bot flagged as spam, or even banned on Facebook. Remember, we're going for professionalism.
Once the greeting is set, you can create the rest of the flow that can be followed.
If you need any help with this, we can offer you an excellent guide on setting this up with our cost-free template!
So what do you need to do in order to get that template? Simply fill out a simple form that tells me about your top struggle when it comes to achieving success with messenger marketing!
I want to reward everyone for helping me do my research, and help others at the same time!
Here is a Huge Give Away Bot Training
I recently made a six-day video-based training from popular demand to help those looking for a great resource to turn to for an over the shoulder way to do chatbots.
If you are interested in checking this out then we would be happy to have you, just click below.