Facebook Marketing With Messenger
Smart Bot Marketers is a ManyChat Certified Agent that lives in Augusta, GA.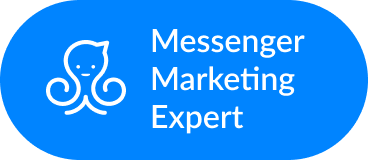 Being A ManyChat Agency Partner
Here at Smart Bot Marketers, we are a certified ManyChat agency, meaning we have gone through all the training and taking all the exams and qualified to be part of their agency program.
There Is a small list of Facebook Messenger agencies that are part of ManyChat agency program, in fact in your local area you probably have none unless you are in our area.
If so, let us help.
If you're running Facebook ads and you do not have a Facebook Messenger chatbot along with that Facebook at it is greatly costing more money than it should in your advertising.
We also have years of Facebook advertising experience and even have our own training program which was made to train people on how to use ManyChat and Facebook Messenger with Facebook advertising.
Of course, I shouldn't have to tell you this all you have to do is Google it to find out ninety-nine percent of successful businesses that are running Facebook ads or advertising through Facebook have a messenger bot attached to them. Being a certified agency is something we are proud of because it shows that we care to make sure that we get the proper training to give you the proper outcome.
About anybody can make a Facebook Messenger chatbot, the question is can the bot act within the correct Facebook terms of service so that your business does not get in trouble?
Can the Bots be user-friendly enough to help your business and not hurt your business?
If the chatbot can do these two things you have a 50% chance of actually succeeding now comes the actual question of do you have solid experience in automation to help with making this a value-added bonus and being user-friendly with your delivery.
I don't know about you but I don't risk anything in my business on a question I make sure that I can answer that question and I have data to back that question up so that I can give the best experience to my customers and I know you as a business owner feel the same way.
After all we're all business owners we just all have different products we just all have different services we all have different reasons but in the end, we should have the customer's best experience at heart.
This is what makes businesses succeed.
Caring about their customers
Giving great customer support
Being there and answering your question when they need to.
And we all know you can't do that by yourself so you need an automated system to assist you this is where using Facebook Messenger comes in play. When I first started using it I saw a great benefit in my business and how it was able to answer questions when I was sleeping, spending time with my family, and just handling everyday life.
In short, we look forward to helping.
About Shane
Digital Marketing Specialist
Learning Marketing
From the time I left home at the age of 16, I have always had to drive, effort, and, work effort to do what it takes to turn nothing into something. From being a manager of three separate subway sandwich shops, I turned a failing sales force into a flagship business model by starting to deliver lunch to businesses that just couldn't get out for lunch which sounds simple but wasn't done.
This is when I developed my way of thinking "No Bs What Does It Take?" 
While delivering lunch one day, someone offered me an electrical apprenticeship which I quickly took and within 4 years had a journeyman masters license. This opened up an opportunity to work with a construction company that installed machinery for Coca-Cola and Pepsi. 
This ended up allowing me to be project manager over multi-million dollar projects all of the U.S. but most importantly introduced me to automation. See, with electrical controls, you have to know how relay logic works which tie perfectly to computer systems because logic is logic.
If you can think it then you can do it.
While this doesn't sound like marketing, let me explain further. Having a high-pressure industry set your schedule of when your work should be done is one thing but we took things a step further using special supplies that had to be coordinated to get out the project for it to have the highest quality.
While achieving the goal of jobs done on time and becoming a preferred vendor for Coke and Pepsi, I made sure that I finished early to be able to pick the brain of the programmer doing the system controls. Seems like a lot to some but remember "No Bs What Does It Take?" 
Set goals…Apply effort…Achieve…Rinse…Repeat
16 Years in Automation
While running projects for Coke and Pepsi, this taught me multiple things like project management while how to scale my own effort to achieve a goal of learning how to program machinery. This later in life would take me to great heights as after having mentor after mentor while working whatever it took gave me opportunities to do great things.
Taking wherever I worked into a flagship of the industry but not for reasons that you would think.
What?
Exactly, one of my most favorite things that were ingrained in me by one of my mentors was this key element "User-Friendly"
Now to this day, I tell all the engineers I work with and teach that anyone can make it work but can you make it user-friendly?
Think of it like this, they can spend millions on building a space ship but if the start button isn't easy to use then the success rate drops drastically. This is coming from someone who is a blue belt in Six Sigma so it is so many million hours running before failure.
Digital Marketing Experience
The Augusta, Ga TedX talk that woke me up!
I have always loved the TedX talks and the value they have which is why I attended a TedX event with my wife one year in which I met a great speaker name Jay Samit. Some of you may know him from his book Disrupt You, this was actually before the book just got released that I got to sit down and have lunch with Jay.
An eye opener for me to say the least….. Got a fire lit inside me
This is when I decided to go all in on learning everything I could about digital marketing which I joined several courses and groups trying to find my way as we all do. I ended up learning the best of digital marketing from OMG from the likes of Stephen Floyd and Greg Morrison while learning Facebook ads from Kevin David.
And yes, I know and speak with them still to this day…truly great people.
After learning Facebook ads, I quickly realized that if you are not running a chatbot with your ads then you might as well through your money away. Not to sound too harsh, just an eye opener as I have seen the ROI go from $6 for the cost of a customer down to 68 cents.
This why I say using things like ManyChat while being "User-Friendly" is in a company's best interest or person for that matter.
ManyChat Experience
Automation is all the same
Since you know I programming machinery as an electrical engineer by trade, there is no secret that logical controls are my passion and having systems that are user-friendly just make the world a better place.
Tie ManyChat bots with great customer engagement is just a WIN! ….. The question is how much do you want to win?
After being part of some of the most elite ManyChat groups on the internet, I quickly started to reach out to help people because well…I love to help and teach. 
Any surprise?
After all, I would not be where I am today if I never had mentors so I give back as much as I can.
To show that I have one YouTube channel solely to help people learn how to programming machinery and I have another YouTube channel to help people learn ManyChat along with SEO and Facebook ads. 
You can call this my Gary Vaynerchuck moment when I give with no intention of receiving. 
Building high-quality user-friendly ManyChat bot flow and sequences are just easy for me and to be honest, a lot of fun so why not make a living at something I love to do while helping people out with digital marketing?
I have actually been through many different digital marketing training and events however the one I am most recently proud of is being a certified ManyChat Agent which is an accomplishment that no other Facebook Marketing agency can say. 
Let my experience help you!
Facebook Ads Experience
Doing ads to produce ROI not traffic
When it comes to Facebook you have to know your audience and what better way to know your audience than to be engaging with a ManyChat bot or in other words, a ManyChat Facebook messenger ad?
A new feature that not very many people are using and hardly any companies are using.
There is the use of just an ad over Facebook messenger using the ManyChat Json coding and now there is the new feature that Facebook has added to ManyChat to greatly help the use of messenger ads and that is ManyChat ads Beta.
Even then, in just normal ads, the main reason that most people spend more than they make is that of the audience and the ad copy.
How do you have a good ad copy if you do not know your customer or know how to find them, this is the difference that Smart Bot Marketers bring to the table.
YouTube Marketing Experience
Video is becoming the winner in 2019
I have been on YouTube for the past few years teaching a do it yourself type system to help people grow while learning a craft, this has helped me understand what it takes to not only build a channel but how to fastly rank videos.
Biily Gene from Billy Gene Marketing shows that using video get s attention.
While I have yet taken it to his extreme, I have taken pointers from my friend Kevin David in the Digital Course Secrets group that shows that the person with the attention can help the most people with their message. 
That is of course with organic.
Now let's talk about the use of YouTube ads, just like Facebook, you have to know your audience so please don't just jump into YouTube ads without training because it can be very expensive. Whether organic or with ads, YouTube is the second largest search engine so this is why I put it to good use.
Honesty Just Wins!
Little Known Fact





Experience
Expert Digital Marketer
From the time I starting learning automation in systems controls, I knew that there was a better way to help and also provide a better life for my family while still teaching.
Using logic in digital marketing is now just becoming a trend more and more every day so this is where I step in to bring a new sense to the game called being user-friendly while having a solid message. If you tie all your systems together for marketing then it makes understanding who your customer is that much easier.
Just ask Kevin David, Grant Cardone, Tai Lopez, and the likes of.
This is not a new way of doing business, it is just an easier way of doing business.
With my final thoughts, if someone like myself can build a website, YouTube channel, Facebook page, and tie just those three together to win then adding a corporation together is nothing.
Search Engine Optimization